Where is best ski resort for skiing powder? Well, it's the one you're at, the day after a storm with a foot of new snow. The sun is out and the slopes are calling you and your mates. Plus there's no-one else around. Too good to be true? This mythical beast does exist and I've had a pleasure of skiing it several times in my lifetime. And although it's rare – it's not an impossibility!
If you love skiing powder there are resorts where you can increase your chances of finding untracked fields of white goodness! Geography is the major factor in creating ski areas with a high possibility of hitting powder. A lack of crowds is also key – so looking for resorts off the beaten path is a must!
Japan
Japan is built for powder skiing. The prevailing wind blows from the Siberian tundra, hits the sea of Japan, picks up moisture, then blasts the Japanese alps… and dumps. This means skiing in Japan is a pretty good bet for powder skiing.
Even in Japan you can increase your probability of finding the legendary Japow.
In particular, the Niigata prefecture on Honshu gets in excess of 15 metres of snow a year. Myoko Kogen is the gem resort here with 4 main resorts and another 3 resorts close by. Madarao Kogen, Kurohime Kogen and Seki Onsen are all worth a look and easily accessible from Myoko Kogen.
I remember simply being in awe of the 4 metre snowbanks on either side of the road when driving into Myoko one late evening. Akakura Kanko didn't disappoint the following day!
On the northern island of Hokkaido, powder is again in abundance with an average snowfall of around 12 metres a year. Niseko is the "go to" resort with a huge area to ski, excellent accommodation options and an awesome village. It is popular so does get tracked out pretty quickly. Although, when you're getting 7-10cm of snow an hour and your tracks are filling up in between runs, this is often a moot point as I discovered on one particularly awesome day in the Hanazono area.
Furano in central Hokkaido is a great place to base yourself. It's a fantastic resort with two mountains to ski and lots of off-piste terrain. It has a great village and excellent transport links to the smaller (less known) ski resorts such as Kamui Links, Asahidake, Tomamu and Sahoro. This gives you a huge range of terrain with a little effort. There are good bus links and you can do guided trips, but car rental is also a good option.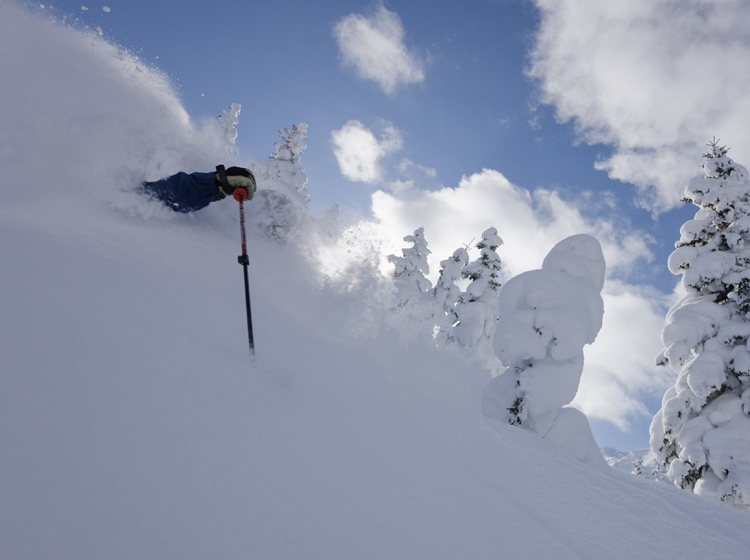 Canada
Like Japan, Canada has a plethora of ski resorts and gets amazing snow. The areas renowned for amazing powder tend to be in a zone between the Maritime Mountains and the Canadian Rockies. The Kootenay River Valley attracts a fair amount of precipitation meaning the surrounding mountains are a mecca for heli and cat ski operations.
Revelstoke, Red Mountain and Whitewater are all renowned for light dry powder and are a bit off the beaten tourist path meaning fresh tracks can be found again, and again, and again.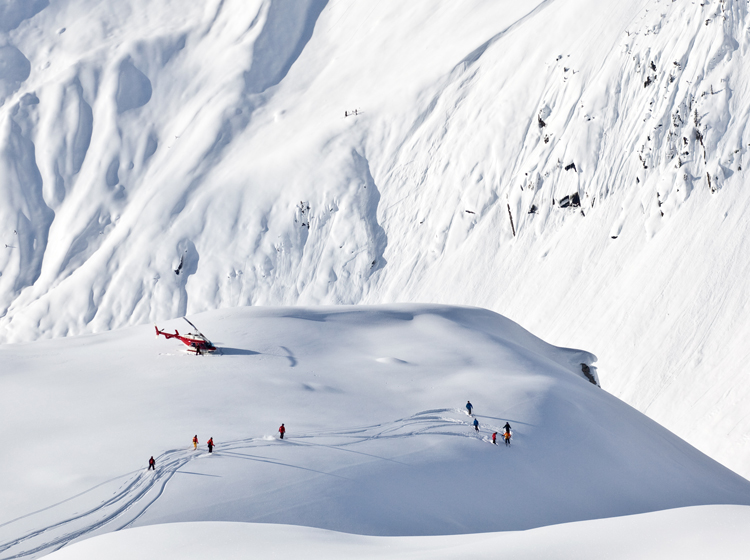 In Canada if you really want to ski powder you need to try cat-skiing or heli-skiing. Revelstoke, Whistler and Panorama all have heli operations straight out of the resort so a mix of resort skiing and heli skiing results in an incredible holiday.
If you really want the ultimate powder skiing experience "Last Fontier Heliskiing" have two operations. Warm up your skiing legs with a few days at Whistler, then fly an hour north of Vancouver, followed by a 4 hour bus ride to a couple of the most remote locations in the world! This equals the trip of a lifetime!!
One tip: Heliskiing is popular – always pre-book this or you will miss out.
USA
Safe to say, the best skiing in the USA tends to be at high altitude. This means the snow that falls tends to stay awesome for a long time. The trick to finding exceptional snow here is to hunt out the hidden stashes. I've found fresh powder at Snowmass two weeks after the last snowfall by hiking a ridge and finding a hidden slope.
When riding the gondola or the chairlift try to suss out where the ridge lines look promising and always chat to the people on the chairs or in the gondola. Locals usually love to show off their mountain to newcomers who can ski and I've hooked up with many locals for a ski after chatting on a chairlift.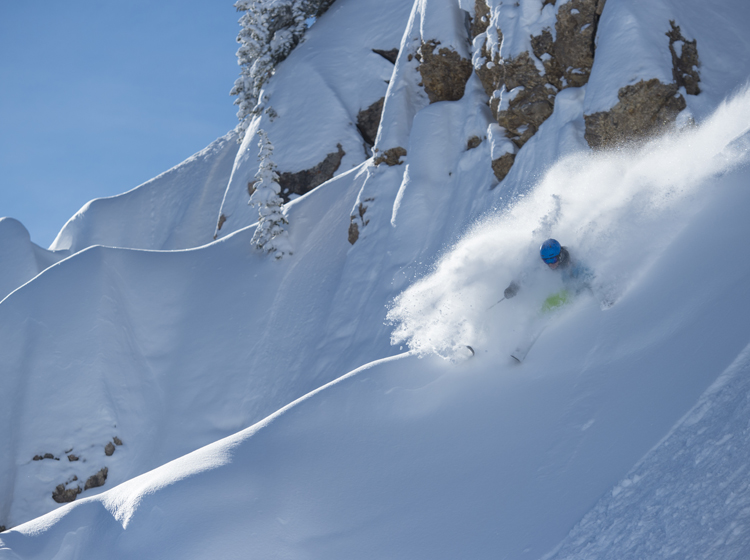 Some of the best powder I've found was around Salt Lake City. The theory is; the great salt lake dehydrates the snow making it lighter. Two of the best days – EVER – were at Alta followed by another at Snowbird. These resorts feel really local (like the club resorts in the South Island of NZ) and seem to attract some of the best skiers I've ever seen (which is usually a pretty good sign of awesome snow.)
Jackson Hole and Grand Targhee, its neighbor across the Grand Teton range, are also snow magnets and get incredible powder and low crowds. Grand Targhee also has a cat ski operation right out of the resort meaning untracked slopes can be had.
So, really the trick to finding magical powder is to be in the right place at the right time with the right people. Remember skiing powder overseas isn't for the fainthearted. Make sure you have the training, skills and equipment to stay safe. You can always hire a guide (these are common and invaluable in Japan especially) or go cat skiing or heliskiing. But above all – have fun!!
Phil – Active Travel Expert
To book a beyond ordinary ski holiday including flights, transfers, accommodation and activities call the Active Travel Experts at travel&co NZ Toll-Free: 0800 555 035 or click here for our latest offers.
Download our Quick Guide to Japan
Take a look at what Japan has to offer: From key facts about ski resorts, unique cultural experiences to winter activities and big city tours. Enter your details below to download your copy now.
Leave a reply