Access some of the most iconic mountains in the world with your Ikon Pass!
The Ikon Pass is on sale now for the 2020/21 season, and it is the perfect excuse to shred, après and explore some of the most iconic ski destinations on offer. With over 41 destinations, 988 feet of snow, 614 lifts and 4,010 trails around the world, make your Ikon Pass go further with up to 3 seasons worth of skiing.
Everyone loves a good deal, and the Ikon Pass brings you one of the best. The Ikon Pass now gives you a chance to ski in the Southern Hemisphere. Why not head to Thredbo and Mt Buller in Australia, The Remarkables, Coronet Peak and Mt Hutt in New Zealand or even Valle Nevado and Portillo in Chile this coming winter then head across to the Northern Hemisphere winter for unlimited days on the slopes before returning to explore another Southern Hemisphere ski resort. That's is a lot of days skiing all loaded into one pass!
Check out our Active Travel Expert, Tammy's example itinerary to discover one way you get the most out of your Ikon Pass!
Queenstown – July
Day 1
You have arrived in paradise!! Spend the afternoon at your own pace, strolling the lakefront & town, getting your bearings of what's on offer here.
Day 2
Gear up for a morning of skiing The Remarkables, a quick stop for some snaps of Lake Wakatipu followed by an afternoon jet around the river on the Shotover Jet.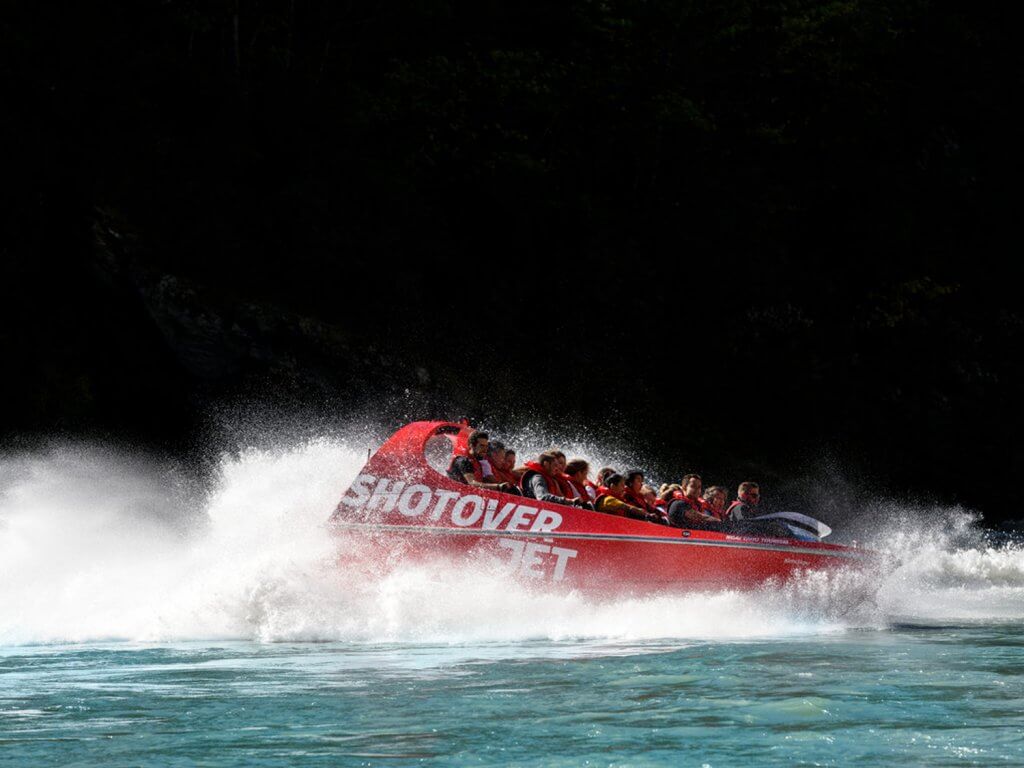 Day 3
Ski Coronet Peak today hitting those more challenging runs. Stop for a go on the Shotover Canyon Swing & look at Skippers Road Lookout (snap a few more pics if you want!) followed by a drive by Arrowtown on your way back to Queenstown Central. Spend the afternoon honing down the hill on the Queenstown Luge!
Day 4
Ski your favourite today out of The Remarkables or Coronet Peak – the choice is yours! Take the afternoon to explore Queenstowns shops & do a little retail therapy. For your last evening in Queenstown treat yourself to some wining & dining at True South Dining Room.
Day 5
Spend the morning hiking the Ben Lomond Track for breathtaking views of this beautiful country! Before heading back to the airport for your flight home.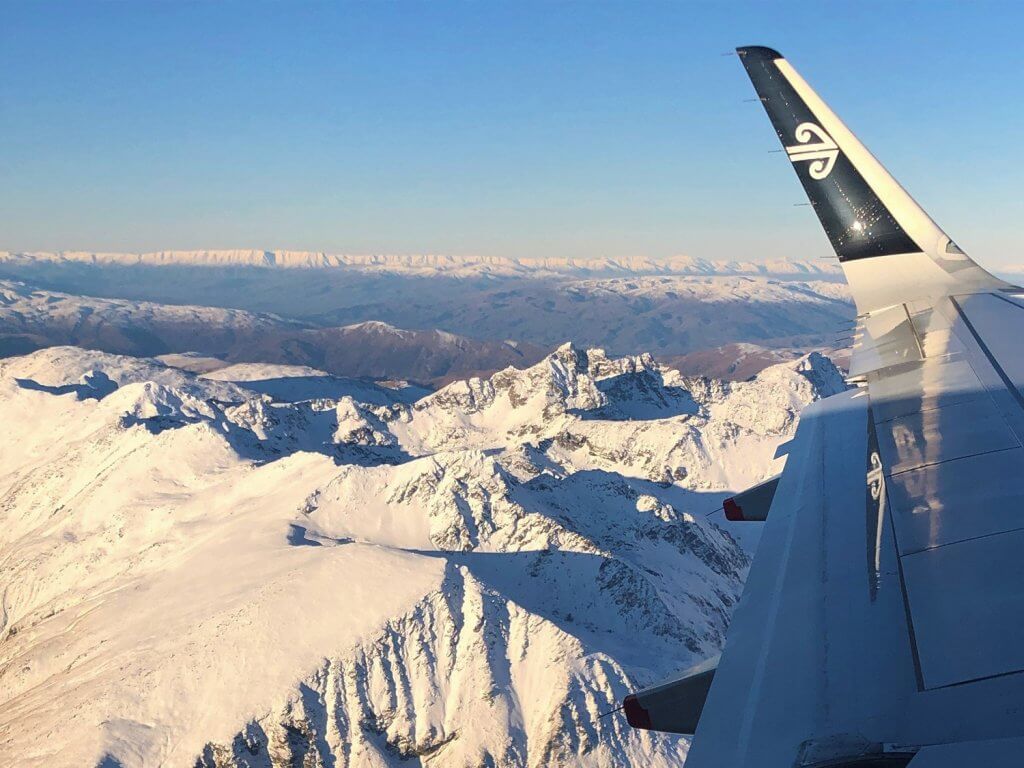 Day 1
Arrive in Denver, pick up your rental car & overnight in downtown to acclimatize (Union Station) – maybe even squeeze in some shopping at one of their many Outlet malls & a visit to one of their 200 breweries for dinner.
Day 2
After a quick stop for coffee at Union Station (Pigtrain Coffe Co) head off on your 3-4hr drive to Steamboat Resort with a couple of scenic/toilet/grocery stops on the way (who can spot a fox or a moose?!).
Day 3
Hit the slopes for the day easing your legs back into the skis starting off with a cruisy green run & working your way up from there, followed by an evening of soaking in the hot springs & filling your belly full of Truffle Fries, Caesar Salad, & a nice juicy Steak at the Truffle Pig.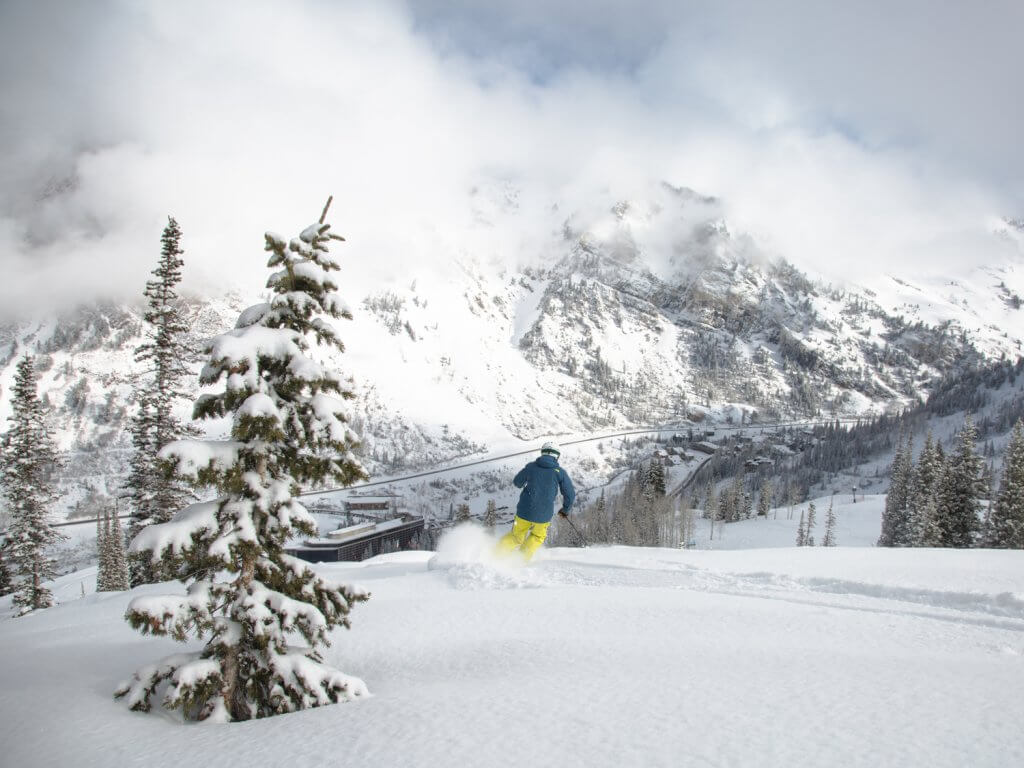 Day 4
Another morning hitting the slopes but this time experiencing First Tracks Access to get all those freshies! After you've skied your heart out spend the afternoon on a Snowmobile Tour followed by Ragnars Sleigh Ride Dinner (five course gourmet Scandinavian-inspired dinner).
Day 5
Spend the day on the slopes hitting all those black & double blacks you've been itching to try out! With a Snowshoe Tour in the afternoon followed by some Night Skiing to top it all off.
Day 6
After a quick last minute look around Steamboat Town collecting those little knick knacks you plan on taking home with you, head to Copper Mountain – 2-2.5hr journey.
Day 7
Have a sleep in today because you deserve it! Grab a coffee from Camp Outfitters/Camp Hale (best coffee in resort) before hitting the slopes of Copper Mountain starting at the East Village (majority Green Runs), then working your way over to the Centre Village (mix of Blue & Green runs) for lunch at Ten Mile (highly recommend the Korean Beef Tacos!). Spend the evening soaking in your buildings Hot Tub (this is starting to become tradition!) & cooking a homemade meal from the comfort of your condos kitchen.
Day 8
Today, get to know the mountain better & get insider tips from the locals by joining one of Coppers free mountain tours (twice daily, every day of the week, all season). After a fun-filled day on the slopes, the fun doesn't stop there.. take a ride on the Rocky Mountain Coaster! Go as fast as you like as the staff test the tracks out every morning & try their hardest to knock them off the tracks – failing miserably every time. Enjoy an evening dining at the CB Grill.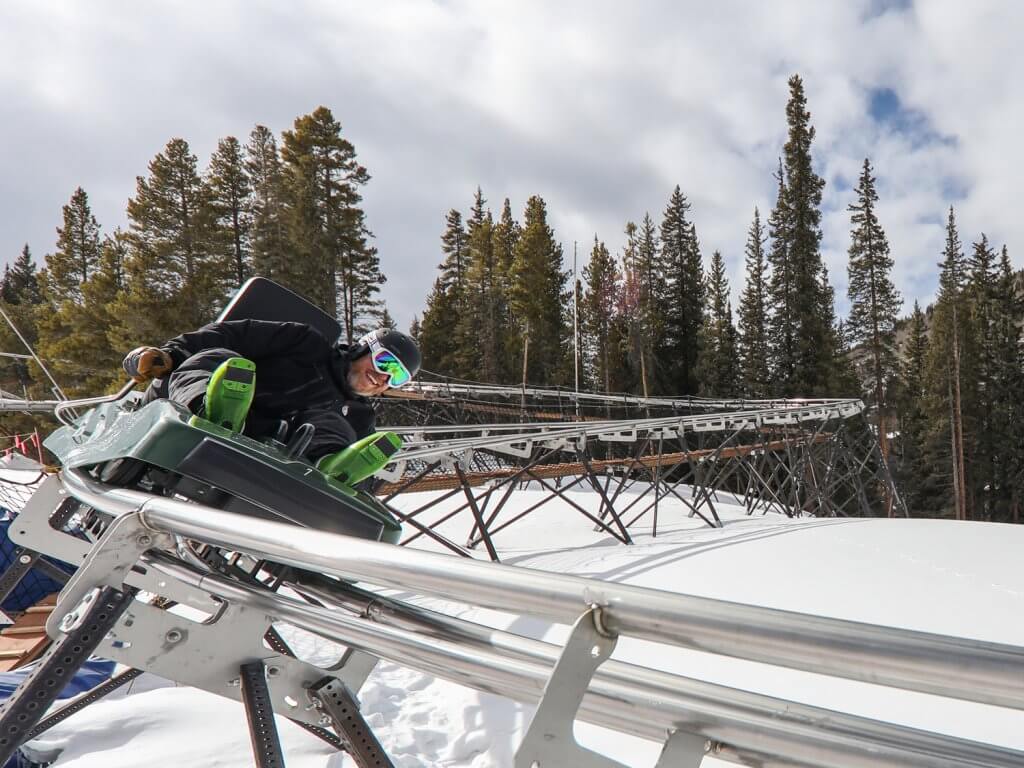 Day 9
For your last days skiing treat yourself to skiing with a Ranger (Fridays & Saturdays at 11am) with a stop at Flyers Soup Shack for lunch (best waffles in resort). And while you're in the spirit of treating yourself, why not splash out on a Moonlit Dine & Ski? Experiencing the magic of Copper after dark.
Day 10
Gear up for a morning of ice skating on West Lake before you start on your 1.5-2hr drive to Winter Park Resort.
Day 11
First day on the slopes! By now you will have well & truly got your ski legs back so dive straight into the harder stuff if you like. Then for something a little different, after lunch head out on a Sno Go Ski Bike Tour! In the afternoon head over to the Coca Cola Tube Park for some tubing.
Day 12
Skiing, skiing, skiing – try out that run you've been eyeing up for the last day, push yourself, & explore the mountain at your own leisure today. Head into Winter Park Town for an evening of checking out some of their great breweries/distilleries (Moscow mule is a MUST in Winter Park).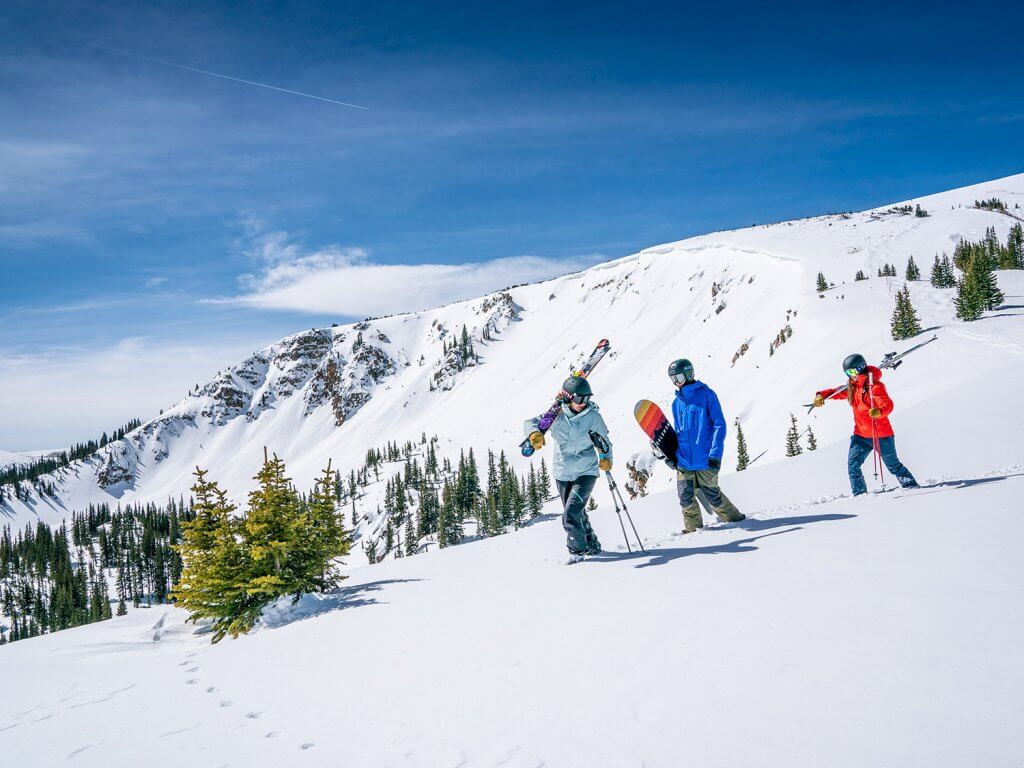 Day 13
It's you're last day so best make the most of it! Try out some fat biking & stroll the town at your own leisure. For something a little different, head out on a Vasque Ridge S'Mores Snowcat tour at night.
Day 14
Pack up your things & head back to the airport for your journey home!
Day 1
Hello & welcome to Chile! For your third & last trip taking advantage of your Ikon Pass spend it skiing Valle Nevado.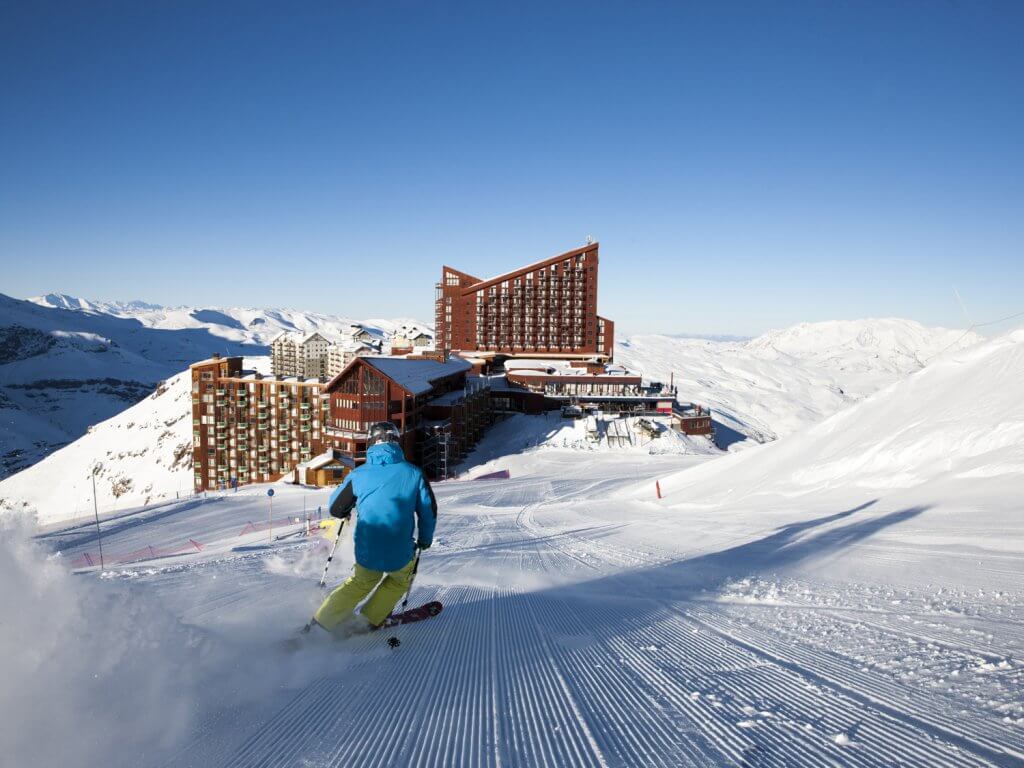 Day 2
For your first days skiing for a new southern hemisphere ski season, take it easy with some slow beginner runs.
Day 3
Another action-packed day of skiing this time giving those intermediate runs a good run for their money. What do we have in mind for your afternoon? Apes Ski! Spend the afternoon tasting some of Chile's fantastic wines – ask your waiter/waitress for the perfect food pairing for each.
Day 4
Annnnd more skiing of course! This time, test out those expert runs if you're game. Book yourself in for an afternoon/evening spa treatment – relax & rejuvenate those ski muscles.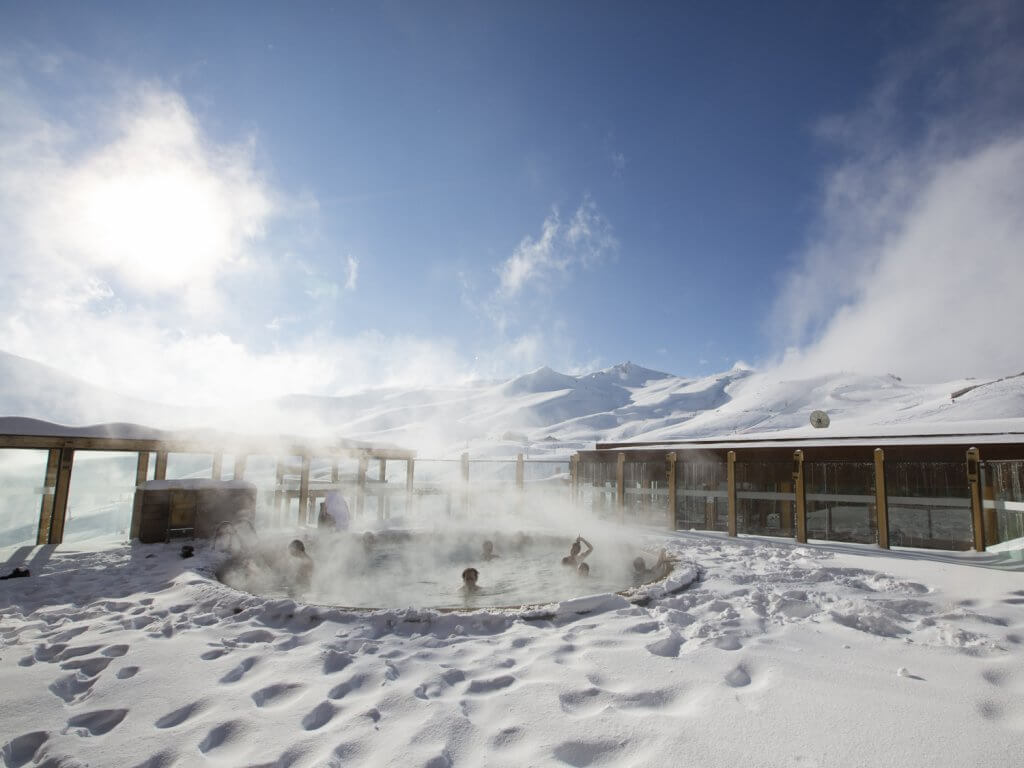 Day 5
Seeing as it's your last day, why not throw in a little extreme adventure? You're going Heli Skiing!
Day 6
Make a start on your journey home. Well done for making the most of your pass – you truly got some great skiing in some amazing destinations!
P.S. Make sure you take advantage of the Ikon Pass Insurance by purchasing this at the same time as your pass! For more information on what this covers please see here.
This epic trip takes you to some of the best ski resorts around the world. Experience fresh groomers, back country action, off-mountain entertainment, après ski and plenty of powder. A snow lovers dream!
Our Active Travel Experts have all the details about where your Ikon Pass can take you. They also have exclusive deals, information and prices at their fingertips, Get in touch on AY Toll-Free: 1800 042 195 or click here for our latest offers. We can't wait to chat about your perfect skiing or boarding experience!
Leave a reply