Active Travel Expert, Kate, has been in Japan. Take a look at her report.
The Nagano area of Japan is home to hundreds of ski resorts that receive over 10 meters of snow each season and easily accessed by bullet train from Tokyo.
We were staying in Shinjuku and opted to catch the Bullet Train from a Station called Omiya. This is just north of the city and was smaller and easier to navigate with all out bags in tow. The only downside to this was the trains were not as frequent and, as it happens, we missed the train we were supposed to get on. But not to worry, we had booked tickets with reserved seating at the Station in Shinjuku and we were able to use our same tickets and just sit in the non-reserved cabins – this meant we could use the same ticket to pass through the gates which was really easy.
This smaller station option worked out well for us as we didn't have to try too hard to find the elevators (which went to the correct platform) or tackle too many stairs with our suitcases and ski bags. We did discover the trains didn't have a lot of room for suitcases or ski bags, but luckily our train was quite empty and we managed to put these down the row of free seats… the ski bag had to go our feet which was a little harder. I think if you are a family travelling or if you were to take a ski bag it would definitely be worth using Black Cat to transfer your luggage, this is a great service and bags generally arrive overnight. Suitcases are around JP¥1500 and Ski bags JP¥1700, definitely makes navigating the trains a lot easier.
From Nagano we caught the bus to Hakuba. There are a number of buses departing Nagano Station to the ski resorts in the area and these are well signed in Japanese and English. When we arrived in Hakuba we were dropped at the bus station and picked up by our accommodation provider. The buses don't drop at the accommodation so you need to let your travel agent know what time you plan to arrive in Hakuba so they can organise the pick up from the station, it is a long walk to accommodation from here and taxis only run until 1am.
Hakuba
Hakuba's main town area is laid out quite differently due to the many resorts in the area with a train station, bus station, shops, restaurants etc. There are also other areas nearby to stay. We stayed in Wadano as it has a good range of restaurants and bars, is close to the slopes and is on the shuttle route. The other option I would suggest here would be Echoland as this has a good range of restaurants and bars but the access to Happo One is not as easy. While we were in Hakuba we had a lovely Japanese style dinner at a restaurant called Zen and another Japanese fusion style dinner in Wadano at Double Black Hotel. The Rabbit Hole in Wadano is another good choice, they serve great coffee and have a great Western menu if you are craving a burger and beer. For beer lovers Hakuba Taproom in the main village has 16 beers on tap! Getting to and from the restaurants was easy and could be done by shuttle or taxi. Zen called a taxi for us when we had finished eating and Double Black drove us back to our accommodation which was great. Taxis to get from Hakuba Village to Wadano are very affordable, around JP¥1000.
In Hakuba we stayed at Alpine Azumi in a lovely 2 bedroom apartment. This was located in the Wadano area of Hakuba with a good range of restaurants and a short walk to the lifts. The apartment itself was pretty well kitted out with a full kitchen and manuals in English on how to use the appliances. The master bedroom had a large king size bed with separate toilet. The second room was set up with 2 single beds. The shared bathroom was large with stand-alone shower, full bath and double sink vanity. The lounge had enough seating for 6 people and cosy fireplace. The TV was set up with Netflix too as there isn't much choice for English channels in Japan. If you needed to head to the supermarket or somewhere in the village the staff were also on hand to shuttle you around which was super handy.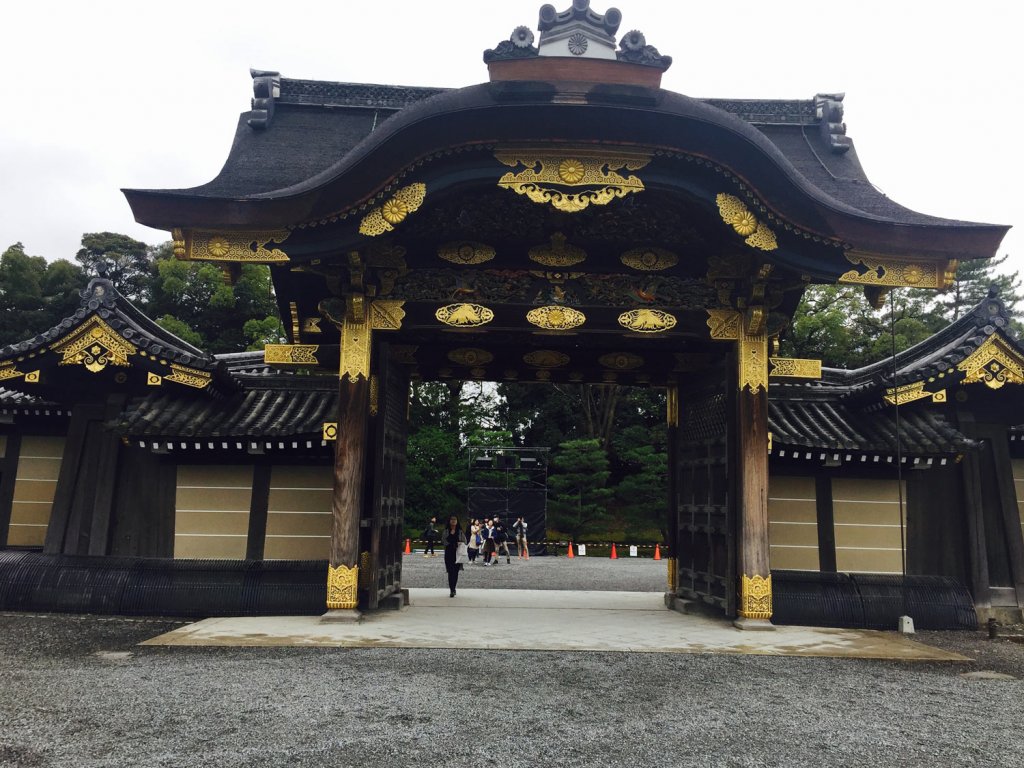 Happo One, Hakuba 47 and Goryu
We manged to get in 2 days skiing/boarding while there and skied Happo One, Hakuba 47 and Goryu. Happo One is one of the larger resorts and probably the steepest too, this was my favourite although it was a bit busier than the others. They had nice long cruisy runs and some nice off piste skiing at the top. Pilar restaurant was a great spot to stop for lunch too with views over the Valley. Hakuba 47 and Goryu had a more mellow feel but quieter which was great and you can ski between the 2 areas. Hakuba 47 has some great tree riding areas most of them are open areas but there is also 2 closed tree areas that you need to register for. You are given a bib and there is a gate into the area to restrict it so that only experienced skiers/boarders are in the area – as it is technical and unpatrolled. Hakuba 47 also has a large terrain park and half pipe, it has its own chair lift so you can do laps all day if you are that way inclined. We managed to get around to some of the other resorts by shuttle to check them out too. Shuttles run frequently and are free with your lift pass – make sure you only use your lift pass for the bus on the days you are using your lift pass as its use counts as a day off your lift pass. The hidden gem, Cortina is a great resort for powder and tree skiing, they are the first and last to receive snow being at the end of the mountain range, the base area doesn't have much, so best to do day trips here from Wadano or Echoland. We picked up our rentals at Spicy rentals, they have a range of shops throughout the Hakuba Valley which makes it easier if you need to switch gear out and aren't by the shop you picked it up from. The team were helpful and friendly and kitted us out with some good gear.
On our departure from Hakuba, we took a slight detour to see the snow monkeys. The walk up to them is around 30 mins and can be quite snowy and icy: Best to wear snow boots or shoes that are comfortable and with good grip if you are wanting to see them. The park itself has just had a new information centre built with information on the monkeys and souvenirs. When we were there the snow had already melted and it was quite warm so missed out on seeing them bath in the thermal pools, but was still good to see them in the valley playing around. We offer a fantastic day tour ex Hakuba which includes the Monkey Park, Lunch, Sake Tasting and a guided Tour of Zenkoji Temple which is the largest temple in the Nagano area.
Nozawa
Our next stop was Nozawa. The village of Nozawa was beautiful and exactly how I had imagined a Japanese ski village to be like. There were a lot of Shrines and Japanese architecture and, as the name would suggest, many Onsens. There is even an Onsen right at the top of the village where the locals often cook food and next to that, there is a market that sells produce. Nozawa has a lot of little laneways with tucked away bars, restaurants and onsens, so I would definitely suggest taking a wander after a day's skiing on the mountain.
Throughout the village they also sell Oyaki which is a Japanese style steamed bun. They have a variety of fillings both sweet and savoury – these are a specialty in Nozawa and definitely worth a try. Tunikis is also a good spot for meals, they have a fantastic tepanyaki restaurant on one floor, a café on the ground floor and bar on the basement level. Another great spot is the Corner Steakhouse. For bars, Heaven has a great range of margaritas and offers free karaoke rooms during happy hour from 4-7pm. Or if you are into craft beer, Libushi Tap Room (opposite Sakaya) has a range of beer on tap.
Here we stayed in Ryokan Sakaya. Ryokans are Japanese style lodges and offer a great Japanese experience if this is something you are looking for while in Japan. Sakaya was beautiful, with a lovely kept garden, rock pool onsens, large spacious rooms and excellent staff (they had both Japanese and English speaking staff which was handy). Included in your nightly price is breakfast and each set of guests are assigned a dining room for their stay. You will also have staff come in and serve you throughout your breakfast. They alternate breakfasts between Japanese and Western style, if you have any allergies please let us know before you arrive as getting produce is not as easy as popping to the shop. At night the staff come in and set up your bedding while you are at dinner, so when you return after dinner your futons (Japanese mattresses) are all made. In the morning they pack this all away for you too so when you arrive back from the mountain the rooms are clear and you have a lot of space to relax. Sakaya is an ideal location and is only a short walk to either the Yu-Road (similar to an escalator) or Gondola, the walk is steep but only takes about 5 mins to reach the Yu-Road.
We skied 1 day at Nozawa and there was enough terrain to keep us busy for the day, a lot of the off piste/tree areas were closed due to it being so late in the season but you could see how fantastic it would have been on a powder day. The C Chair at the top of the mountain has some good steep terrain and some great tree skiing off the lift. Otherwise there are some good runs off Skyline too. If you find yourself at the Nagasaka Station and want to get back to the Yu-road (or vice versa) there is a snowmobile slay which will take you between the 2 areas around every 10 minutes. They also have lockers at both base areas where you can store your skis overnight if you don't want to carry these to/from the resort each day as it is a climb either way – storage is free with some accommodation.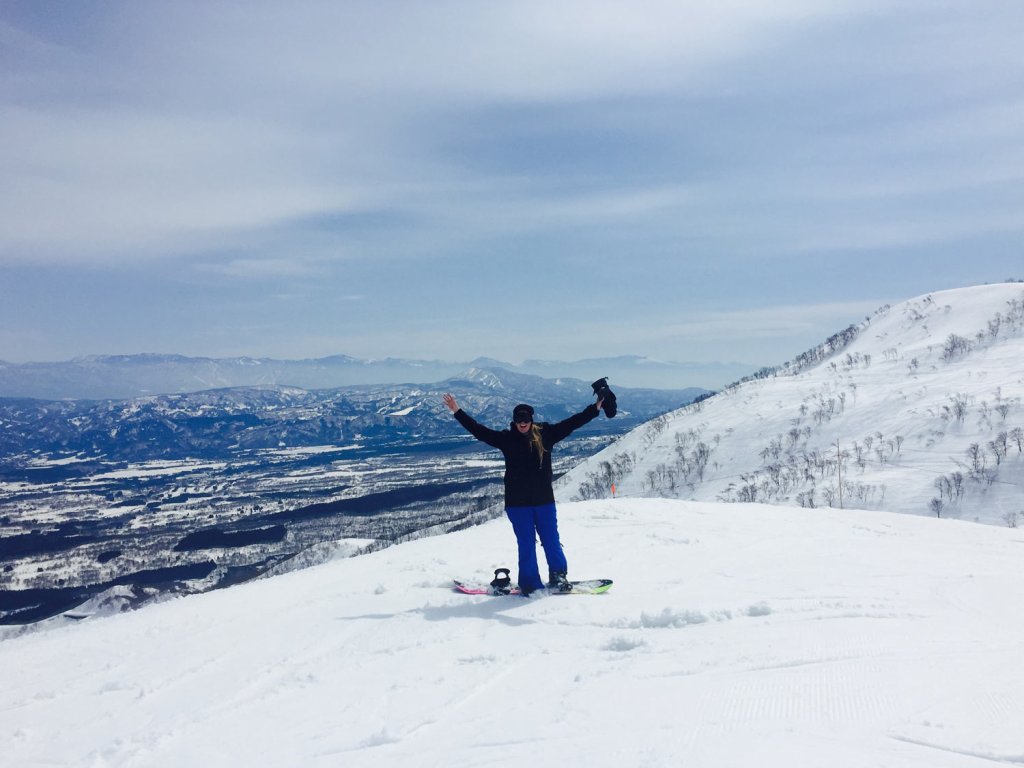 We then headed to Myoko Kogen, this probably has the smaller village of the ones we visited. The main area to stay and where we stayed was in Akakura. This is surrounded by the Akakura ski area so makes accessing the slopes relatively easy. This was a lot quieter than Hakuba and Nozawa, so on a powder day this would be my choice for fresh runs! There are a few good places we found to eat here: Udon-No-Fu has great Udon Noodle meals and Shibata has some great Japanese BBQ style food. There are a lot of small restaurants/bars around Myoko which serve izakaya type meals (skewers with a range of meat and veges) too. We did find a little gem inside the Myoko Snowsports building, this is a Panorama Café which had a great range of Western Options and a really good wine selection too.
We stayed at Akakura Central Hotel which is in a good location. The ski field is about 20 steps from the door (so access to the mountain is really easy) and the town is about a 200 metre walk away down the road too. They have a few different room options Western, Japanese and Wa-yo which is basically a combo of the two. We stayed in the Western rooms which were a good size by Japanese standards. The hotel includes a buffet breakfast with Japanese and Western options available. The staff here are mostly Japanese but they also do have an English speaking staff member to help you throughout your stay too – which makes it a lot easier.
In the Myoko Region there are 8 Resorts. On 4 of these, you can ski on 1 lift pass, these are Akakura, Akakura Kanko, Ikenotaira and Suginohara. These four resorts would be the biggest with the most lift systems in this area too. We managed to ski all of Myoko when we were there. Most of the Akakura runs are long flowy greens but there are some great Intermediate runs off the top chairs. The other ski resorts in the area are worth a visit while you are there too as they don't get the crowds and lift passes are cheap, so more chance of fresh tracks on a powder day.
Lastly we visited Lotte Arai which is newly re-opened. It has been renovated and the lift system is really good. Arai is quite small, the base area just has the hotel (no town), but the hotel is huge with all the facilities you would need on a ski holiday. There is a pool, onsen, day spa, gym, library, shops, ski rental and much more. There is a good range of restaurants and places to eat too. We ate dinner at the Italian restaurant which was amazing, we experienced the 8 course dinner and the service and food was fantastic, definitely something I would suggest if you stayed there and wanted something special. The rooms are a good size and the bathroom was the best I had during my time in Japan. They have a range of different rooms to suit couples, friends or families. The ski resort itself is not huge but they have some great terrain, steeper than the Akakura area and some excellent off piste skiing for all levels – those who are experienced and some more mellow runs for those who haven't skied a lot of powder. You can hike to the top of the mountain from the Zendana Chair, it is a short hike and will give you access to a heap of off piste terrain, bowls and tree skiing. Arai also has the longest Zipline in Asia for those looking to do something off the mountain too.
City Stops:
Tokyo: We stopped in Tokyo for 3 nights which was a good amount of time to have a quick look around and get a feel for the city. I found Tokyo surprisingly clean and the people were all lovely. We stayed in Shijuku at Keio Plaza which is a really good option. Keio Plaza is located about a 5 min walk from the Shinjuku Train Station (which is a major stop on the city network so makes getting around extremely easy) and right next to a huge range of restaurants and bars. Keio Plaza had really good sized modern rooms which I liked, as some Japanese hotel rooms can be tiny. While in Tokyo we did a Full Day Tokyo Day Tour which took in Miji Shrine, the Imperial Palace, Senso-ji Temple and a couple of other spots around the city. The tour was great and a good way to see the city if you only have a few days spare. Next time I would opt for the half day tour as I felt like the morning covered everything worth seeing and the afternoon sort of dragged. That night we hit the laneways opposite our hotel in Shinjuku to find a nice place to eat. There was a good range of Japanese, Western and even Indian options to choose from. An Indian couple on our Tour had mentioned they were off to a restaurant called Bombay, close by for dinner, and as silly as it sounds being in Japan on our first night in Tokyo we thought why not try it too – and it did not disappoint – some of the best Indian I have had. The next day we headed to Disneyland, Keio Plaza is part of the Disney Good Neighbour Programme which meant we could use the Disney shuttle free of charge and was an easy way to get to Disneyland. On arrival I was shocked at the lines, there were people everywhere and it was still 45 mins till the gates opened, that was only the start of it though! As soon as the gates opened, people started running and at first we weren't quite sure why… but we soon learned. Lots of people had run to the Express Kiosks to get tickets to rides and others to rides that were more popular, we just ran to the closest ride. We got an express pass after that, which gave us a time. 4 hours later, to come back for a ride. We then realised we could not get another pass until 30 mins before the other had expired so that was us basically being left to wait for the rest of the day. We spent close to 3 hours waiting for Space Mountain. The rides (that we could get on) were pretty good, a lot of the same rides to Disney in LA, to be honest, but with Japanese warnings and voice-overs – this made for an interesting ride on the Star Wars Motion Master. The best thing I learnt about this was that people would line up for anything no matter how long it took – I mean even the popcorn lines were 30 odd meters long. Disneyland was cool and I'm glad we did it, but I think if I went again I would plan it a little differently. On the way home we decided to try the train, the train station is right next Disneyland so easy to access. To get back to Shinjuku meant two trains which were pretty easy to navigate. We thought this may be quicker but it worked out about the same as the shuttle. That night we headed back to the laneways to try some Japanese cuisine. There was a lot of choice and most restaurants had menus in English outside so you could see what was on offer. We opted for an Izakaya style restaurant called Watamis and chose a variety of plates to share – it was really tasty and plates were around $4 each.
Kyoto: We spent 3 nights in Kyoto and it is a beautiful city. So much history and so much to see so close by which makes it super handy. We stayed at the Almont Hotel which was a 5 min walk from Kyoto Station. It was a good mid-range hotel with easy access to the city's sights and train system. On our first day, we did the Kyoto and Nara Day Tour which was fantastic. It started with the highlights of Kyoto including the Nijo Castle, Kinkaku-ji temple and Imperial Palace – this gave us a good highlight of some of the history of Kyoto and some beautiful architecture including the Golden Temple. We then stopped for lunch in the Gion area (which had some good souvenir shopping) before heading to Nara. In Nara we stopped at the Todai-ji temple (which is also where the Nara Deer Park is) and Kasuga Taisha Shrine. The Todai-ji Temple is one of the world's largest wooden structures and is home to a huge bronze great buddah. The park was awesome too, with deer wandering around. They are very friendly and you can buy crackers for JP¥150 to feed them which was really fun, they are super cheeky too! The Kasuga Taisha Shrine was really nice too. They have thousands of lanterns and also a few cheeky deer! After the Tour we were dropped at Kyoto Station so we headed to the Mall, which sits on the station, as they had a range of restaurants on the first and 8th floor. The next day we visited the Gion Area and Fushimi Inari. The Gion area is great to walk through with all its little land ways and historic buildings, shrines and temples. Fushimi Inari is pretty awesome too, there are hundreds of red gates which loop around in a 4km trail. Getting here was an easy walk from the Fushimi Inari Station. There was a lot of people here when we arrived around 3pm, so I would probably suggest getting here early so that you are not walking in crowds of people. Plus do the full trail, as lots of people just do the start so the crowds thin out at the top. I found a gem of a café close to the entrance called Vermillion which had beautiful western breakfasts and coffee, my suggestion would be to go early, walk the track then stop here for breakfast.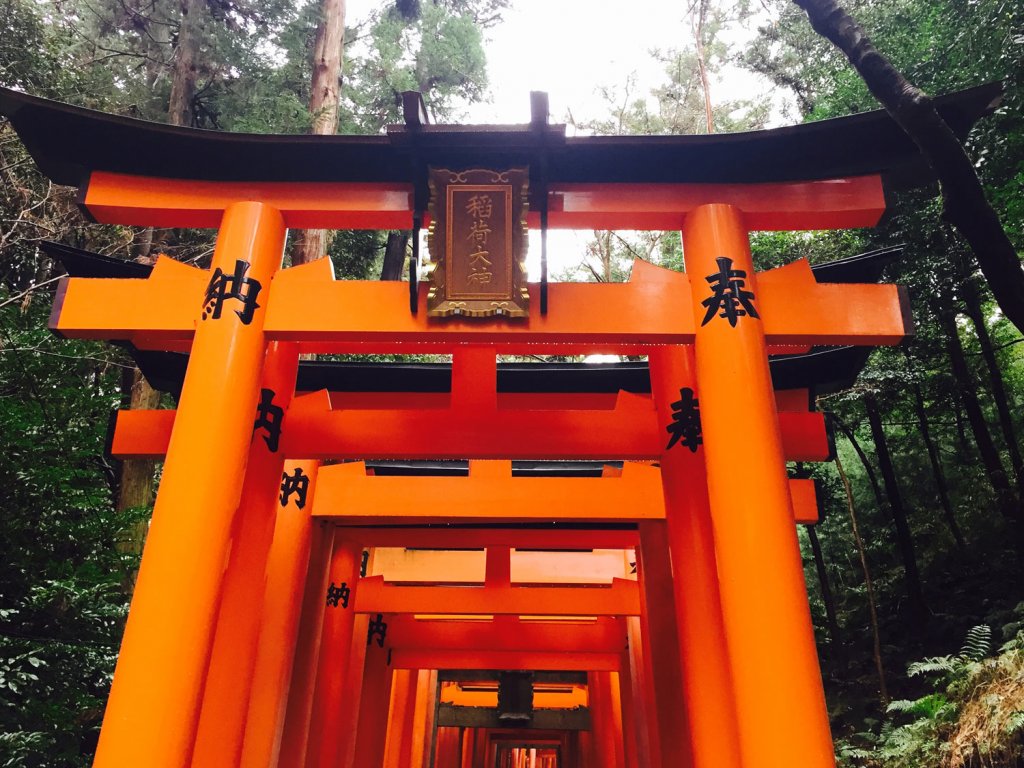 Osaka: We only had 1 night here and spent the first day at Universal Studios. Universal again was much the same as the LA version except everything was in Japanese. We opted to get an express pass but should have pre-booked this with our pass as it meant we had to wait… and that unfortunately meant the pass we were after had sold out! So we had to get another one of the Express Pass options. I would definitely suggest pre-booking the Express Pass or at least getting some sort of Express Pass as the lines were crazy long. If it weren't for our passes we probably wouldn't have been able to get on any rides that day. Getting to Universal was easy as they have their own express train from Osaka Station and the train drops you right at the park. Osaka was more of a grungy city and the people were harder to communicate with, especially that night when we were looking for food. We hit the laneways near our hotel and they had a range of options but a lot of the restaurants were either smoky or only had a few tables which is something to be aware of. We ended up finding a nice little restaurant with Japanese and Western options with an waitress who spoke English which was perfect. We were hoping to make it to Dotonbori as a colleague had recommended it as a must see but we were knackered so didn't get there unfortunately. The next day we were flying home so made our way to the Premium Outlets which were by the airport to squeeze in some shopping before we left. The Premium Outlets located by Kansai Airport were great, they had a range of usual big brands like Nike, Adidas, Sketchers, Gap etc. The office there stores your suitcases for JP¥800 per bag if they don't fit in the lockers. They also give you coupon books if you are a tourist with extra discounts. To get to the airport from the outlets we used the Outlets Shuttle Bus, it cost JP¥200 and shuttled you and your luggage straight to the departures terminal at the airport.
Kate, Active Travel Expert
Call our Active Travel Experts to book a beyond ordinary ski/board experience including flights, transfers, accommodation, lift passes and activities.
AU Toll-Free: 1800 042 195
Leave a reply