Looking for a ski holiday with a difference? Why not include some of the best ski festivals from around the globe. Whether you are heading to Japan, Europe, USA or Canada there is a festival for everyone to get amongst. From ice sculptures, igloos, raves and pond skimming competitions you can take your après ski to a whole new level!
Here's our guide to some of the best ski festivals from across the globe.
Snowbombing
This epic 6-day Austrian snow festival is one of Europe's biggest and it's not hard to see why. Bringing in a world-class line-up of international live acts and DJs the action is spread across some seriously unique venues. Dance the night away at the artic disco, an exclusive party for 300 ravers inside an igloo situated at 60000ft, soak up nature and enjoy headline performances in an enchanted forest, relax at The Reggae Shack with an ice cold drink and some seriously smooth sounds and get amongst Europe's largest outdoor fancy dress street party. There is nothing quite like seeing 6,000 people dressed up in some seriously rocking outfits, this is one event you seriously don't want to miss!
And now this ski and snowboard festival has made its way to North America. Snowbombing takes over the stunning mountains of Sun Peaks Resort in British Columbia where you will find the best electronic sounds from 30+ artists across 3 days and nights at 7 unique venues.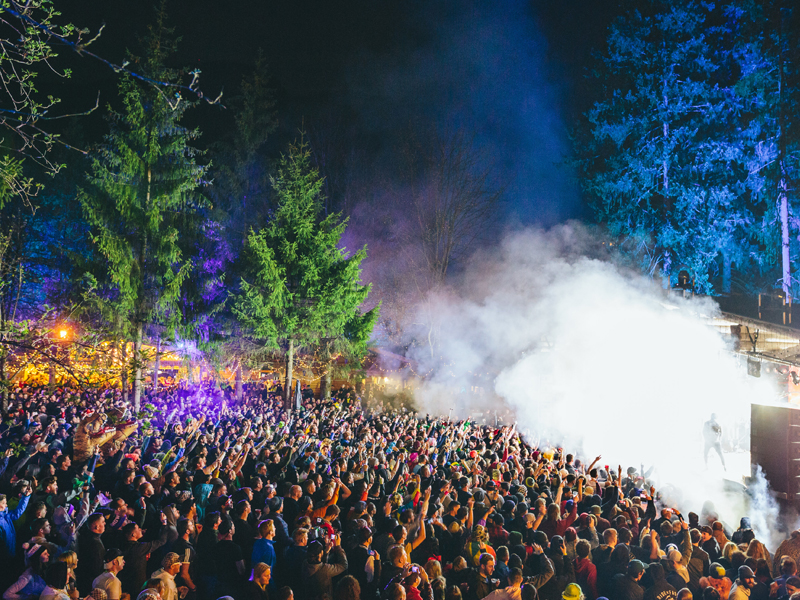 Spring Back to Vail
To celebrate the epic ski season that was, Vail host the ultimate spring party. Thoughts about skiing and exploring the mountain turn towards après ski, live music and warmer days. Taking place over two weekends it kicks off with a free concert followed by parties, giveaways, more free concerts, après and after dark parties and the infamous World Pond Skimming Championships. If you are feeling adventurous why not take part in this closing day tradition. Get outrageous with a costume and get ready to bring excitement and laughter to the crowd when you attempt to ski down the mountain and across a 75-foot pool of water.
Zermatt Unplugged
Are you sick of missing out on festivals because your idea of a good time isn't spent in a crowded venue listening to techno or drum and bass? Then look no further than Zermatt Unplugged. This five-day festival brings nothing but chilled out vibes, amazing scenery, delicious food and some seriously good acoustic music. With 13 small stages set up across the venue, event goers really get a chance to connect with a wide range of musicians in an intimate experience. The diverse lineup ranges from emerging talent to well-known stars with performances in 5 different languages. With the musicians stepping back to the pure essentials of music, get ready to enjoy some of the best acoustic performances you have ever seen.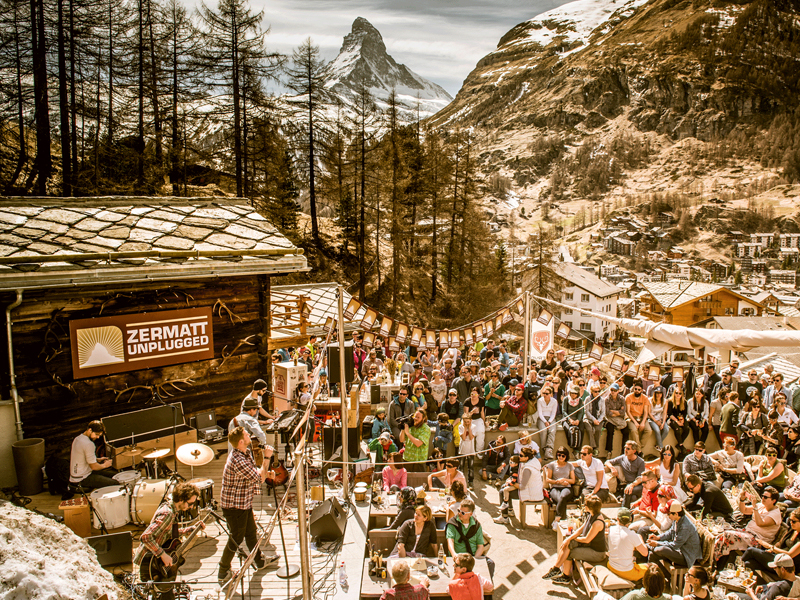 Rock the Pistes
Strap on your boots and get ready to experience an array of concerts on the slopes in Portes Du Soleil. This week-long festival takes place over two countries, 12 resorts and hosts over 35 shows. Grab your "Pass Ski Concert" ticket and immerse yourself in what is the perfect snow and music combo. Head up the lifts and ski your way to the headline gigs, who says you can't party in ski boots? Then ski down to the resort villages at the foot of the slopes to keep the festivities going with the array of après ski performances. With the selection of Europe's best skiing plus world-class musicians performing at different venues each day, Rock the Pistes is the festival everyone will be talking about!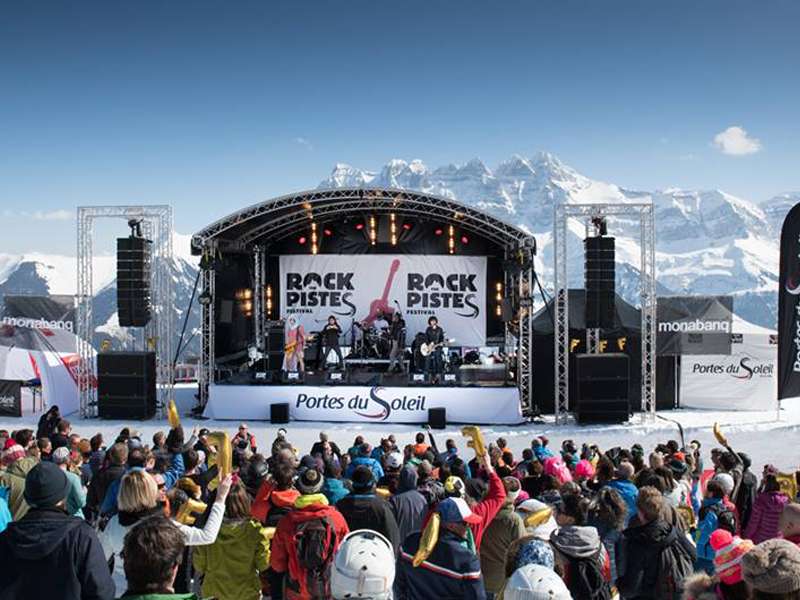 Sapporo Snow Festival
If you are heading to Japan in early February make sure you stop off at the Sapporo Snow Festival. Held every year for one week in Hokkaido's capital Sapporo this is renowned as one of Japan's most popular winter events. With three sites set up around the city, each brings something different. The Odori Site being the biggest it features the largest snow sculptures. Some of the sculptures have been measured at more than 25 metres wide and 15 metres high. In amongst the larger snow and ice sculptures are over one hundred smaller snow statues on display along with a handful of concerts and events. Some of these concerts and events even take place on the sculptures themselves. View the 100 magnificent ice sculptures at the Susukino Site or head along to the Tsu Dome Site for some great family fun. Here you can view more of the stunning snow sculptures then take a ride on one of the many snow slides and snow rafts.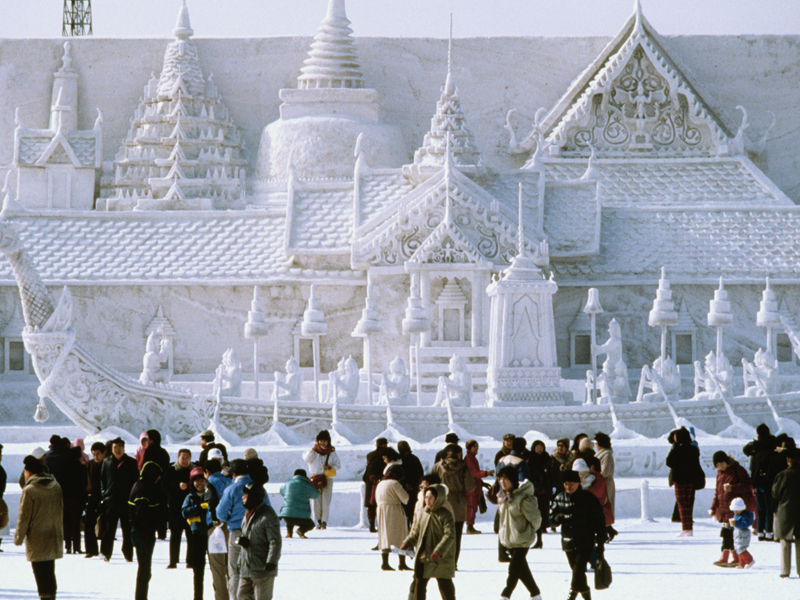 World Ski and Snowboard Festival
Held in Whistler every year this festival is the largest annual winter sports and music festival in North America. This 6-day event is jam-packed with events celebrating all things music, art and snow. Whistler's reputation as one of the best places to ski in the world really comes alive with the WSSF. Don't miss out on the exciting events including the big air competitions, the legendary Saudan Couloir Ski Race Extreme, the Music series, the 72-hour filmmaker showdown and the Olympus Pro Photographer showdown, plus so much more!
To book a beyond ordinary ski holiday including flights, transfers, accommodation and activities call the Active Travel Experts at travel&co AU Toll-Free: 1800 042 195 or click here for our latest offers
Download our Quick Guide to visit Whistler
Take a look at what Whistler has to offer. Located in British Columbia, Canada, Whistler is ranked as one of the best ski resorts in the world. Enter your details below to download your copy now.
Leave a reply